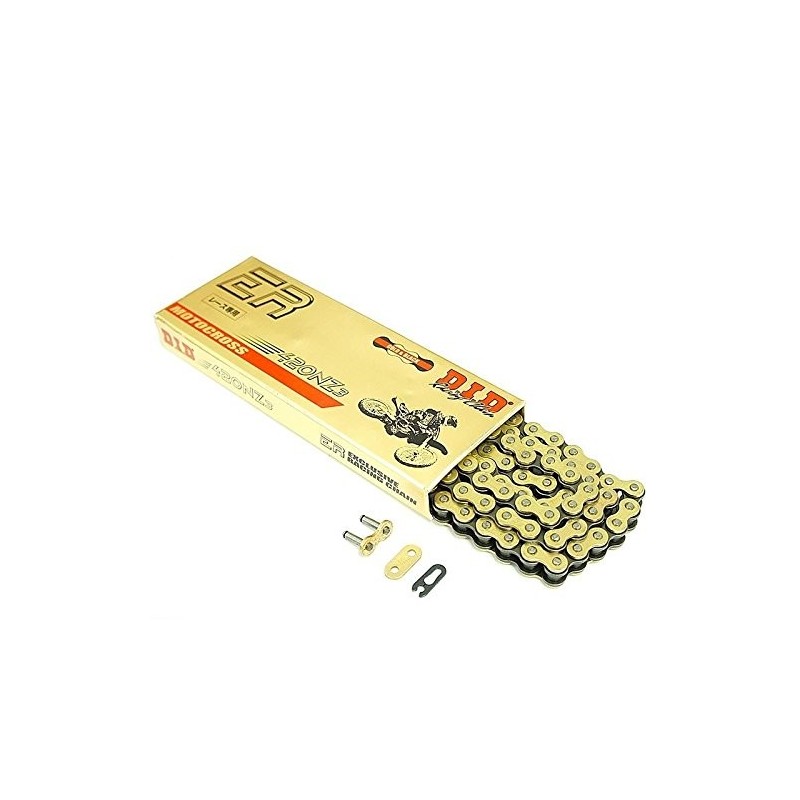  
Chain D I.D NZ Ultra-Reinforced 428 - 120 links
The chain NZ from D. I. D is the latest development in the area of the chain without o-ring, lightweight, has developed a high performance, and exclusively for racing, motocross, Golden color and black, supplied with a quick release.
Not from the chain, 428

*.

Number of chain links : 60 links.
Quick fastening.
IMPORTANT :
A chain, Dirt bike must always be tense, not greasy, and really, the weather conditions require, monitoring and regular maintenance, under penalty, replace the kit chain prematurely.
Control the movement of the chain needs to the maximum pressure to the top and drag it downwards to the stop, you need to this step, sat a person on the seat. In fact, Dirt bike on the side stand, the drive of the rear suspension is ignored, and you could, with a chain too tight, there is a danger that this breaks when driving through a ground wave.
To retension the chain backwards must starting the wheel at the rear by loosening the axle of this wheel. It is then very important to check the cue points for this axis on the swing arm, so that the wheel starts to cross, if you do that. You meet gradually over the course of the individual systems, the the voltage from each side of the wheel.
*TIP : you know not, not from your chain, you can simply measure the thickness of your crown with a caliper.
Thickness 5mm to 6mm : 420
Thickness 7mm to 8mm : 428
No customer reviews for the moment.
16 other products in the same category: