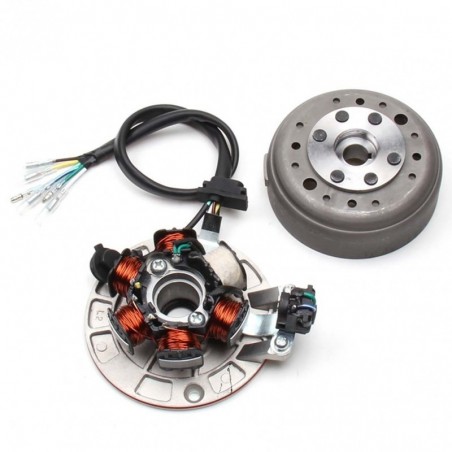  
Pit bike Ignition, 6 Coils / Flywheel Dirt Bike Mini Moto Cross
This ignition and magnetic wheel is suitable for a motor of a Dirt bike from 125cc to 150cc (without electric start), ready to use.
.
Contents of the pack :
- Ignition Dirt bike original with o-ring seal and lip seal central included.
- Steering wheel magnetic gray.
.
Namely :
- No timing distribution to perform since the flywheel is placed on a wedge.
- Before the removal of your ignition engine, do an oil-change engine (recommended oil 4-stroke 10W40).
- Tools required to disassemble the ignition :
1. Key 8 pipe to remove the sump ignition.
2. Block piston or block magnetic wheel.
3. Key 14 pipe to remove the nut in the end of crankshaft.
4. Hard steering wheel in order to extract the magnetic wheel (not reverse).
5. Phillips screwdriver or screwdriver.
No customer reviews for the moment.